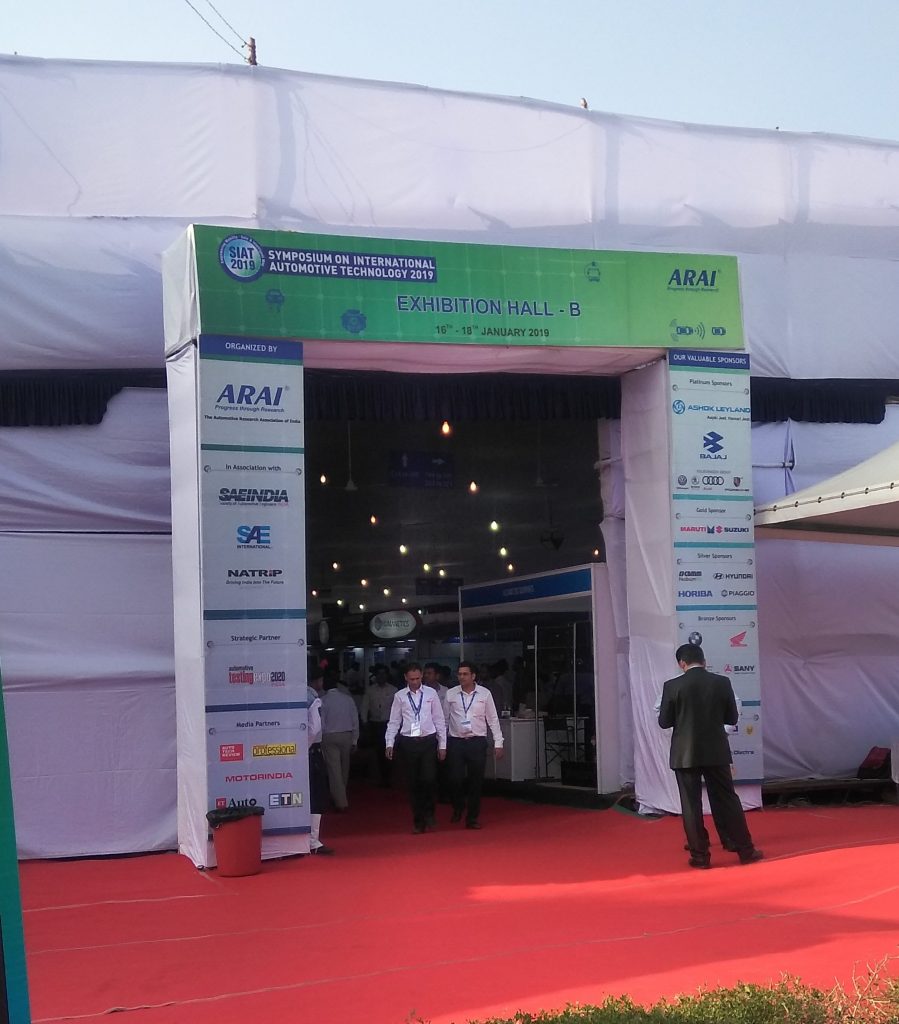 "Symposium on International Automotive Technology (SIAT), widely acclaimed by global automotive fraternity, is a benchmark biennial international event, organized by ARAI, that serves as a forum for exchange of ideas & brainstorming for the automotive industry, with participation of eminent worldwide experts in various automobile arenas."

Mrs Rashmi Urdhwareshe, Director, ARAI
The main reason to write this blog post is to create more awareness of this event mainly within the electronics community as this expo is one of the well-regarded expos in the automotive sector but many people working in the electronics industry are unaware of it. This is one of the best EXPO which I have visited in Pune, the sheer amount of innovation which was to be seen under one roof by top companies in the business was staggering. I also didn't expect to see much electronics in the expo but I was pleasantly astonished to see the insurgence of electronics in the automotive sector due to a rise in demand and investment in Electric Vehicles by the leaders of the automotive industry.
Following is a brief discussion of the innovative concepts and cool demos presented by various companies during the expo, I wish, I was able to spend more time in the expo to see all of the stalls more thoroughly and had documented each and every innovative or cool implementation I came across, but just brief stroll through each stall took me a whole day. Following photos and brief descriptions of the stalls is to give you an idea of what to expect and to get you excited to visit the SIAT 2021 as the expo happens ones every two years.
FEV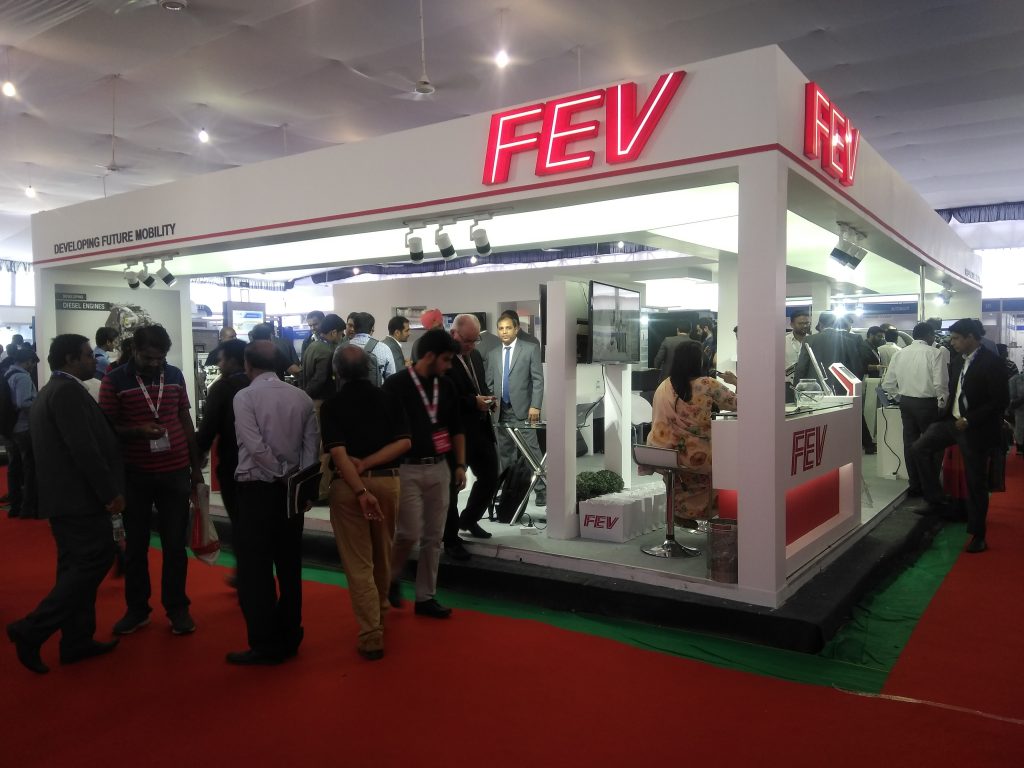 Let us start with FEV, my current employer, I was certainly impressed by the size and the overall layout of the stall, representation of the products and concept models were great, the people explaining in the stalls where the actual engineers who worked on the device/concept which was some things that was missing in other stalls I visited. The SIAT committee also felt the same as they awarded FEV as the second-best stall.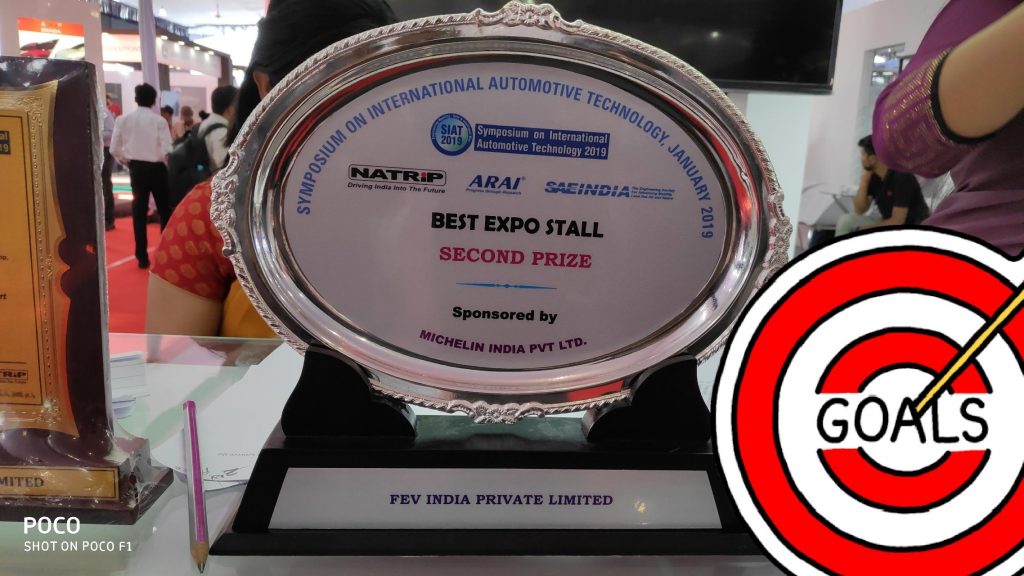 FEV also showed off its autonomous vehicle concept model and shared its plan and capabilities of designing autonomous vehicles.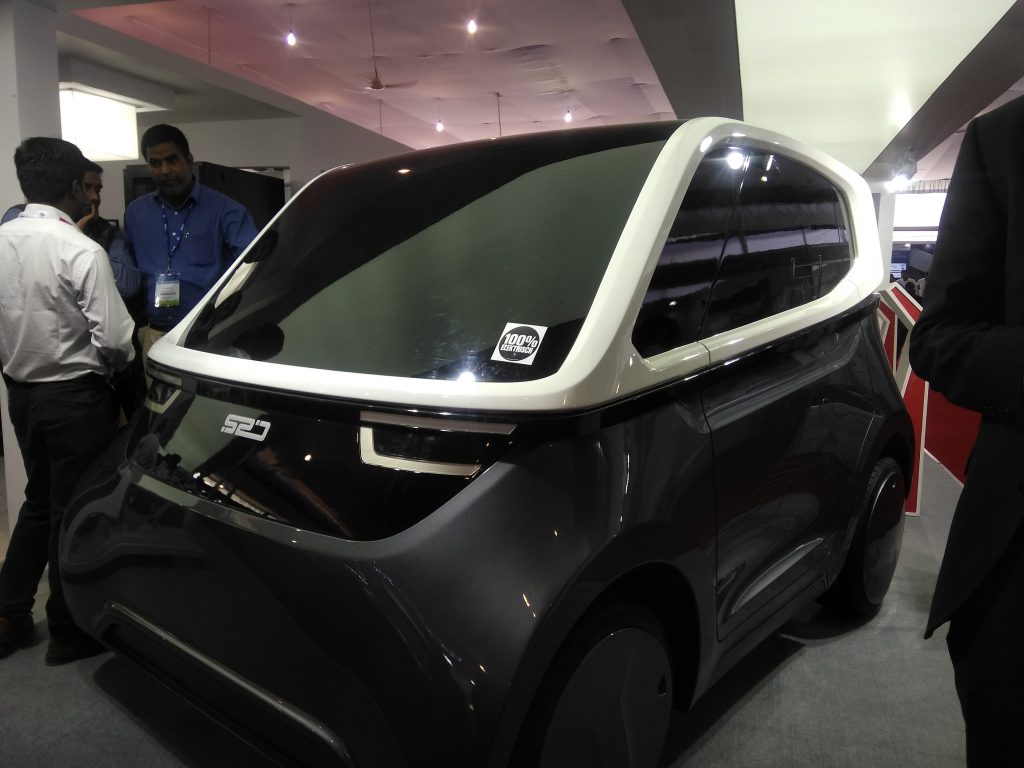 National Instruments (NI)
National Instruments had many demos to show off in various aspects of automobile development and testing.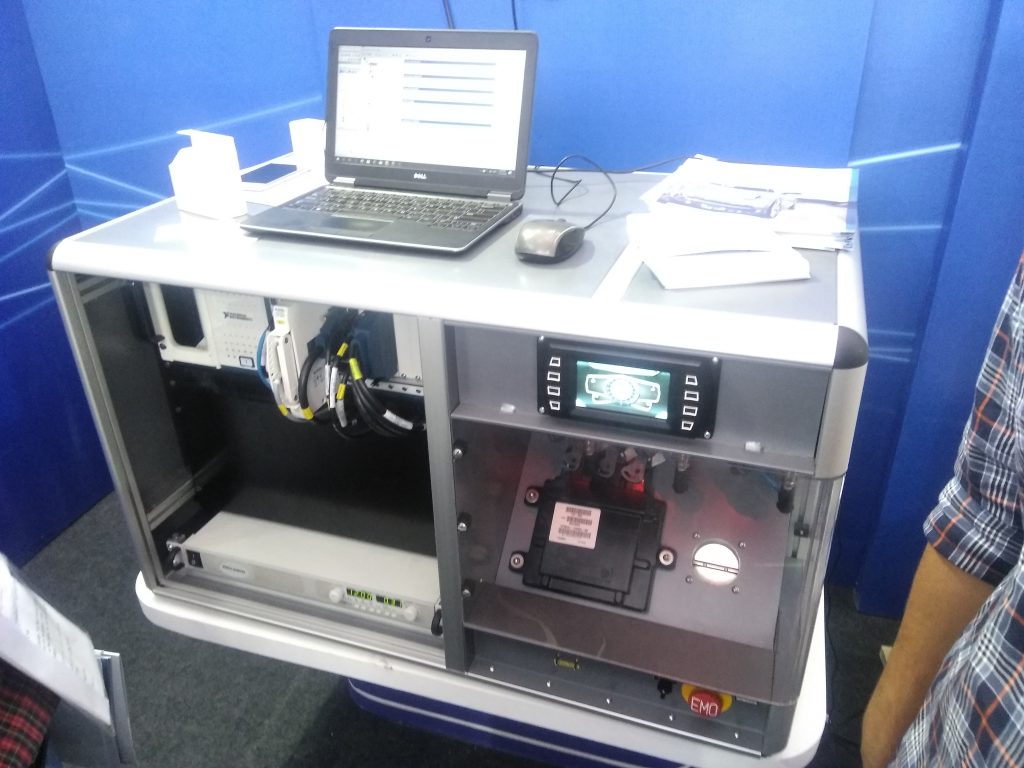 One demo I would like to focus on is their HIL (Hardware In Loop) test setup which they showcased. For those who don't know about HIL testing let me try and explain it in brief; As the name suggest the Hardware In Loop is testing carried out on an actual hardware by providing sensor inputs which are emulated by software and checked if device gives an intended response, to give an example we can consider the demo shown by NI. They are testing an engine ECU by providing various sensor inputs from their LabView compatible hardware, these type of tests are very useful as one can go through various test routines which are hard to perform in the real world.
SEDEMAC
Next, let us talk about SEDEMAC, they too had a lot to show in their booth from various controllers and ECUs. But their main attraction was their Engine ISG demo setup.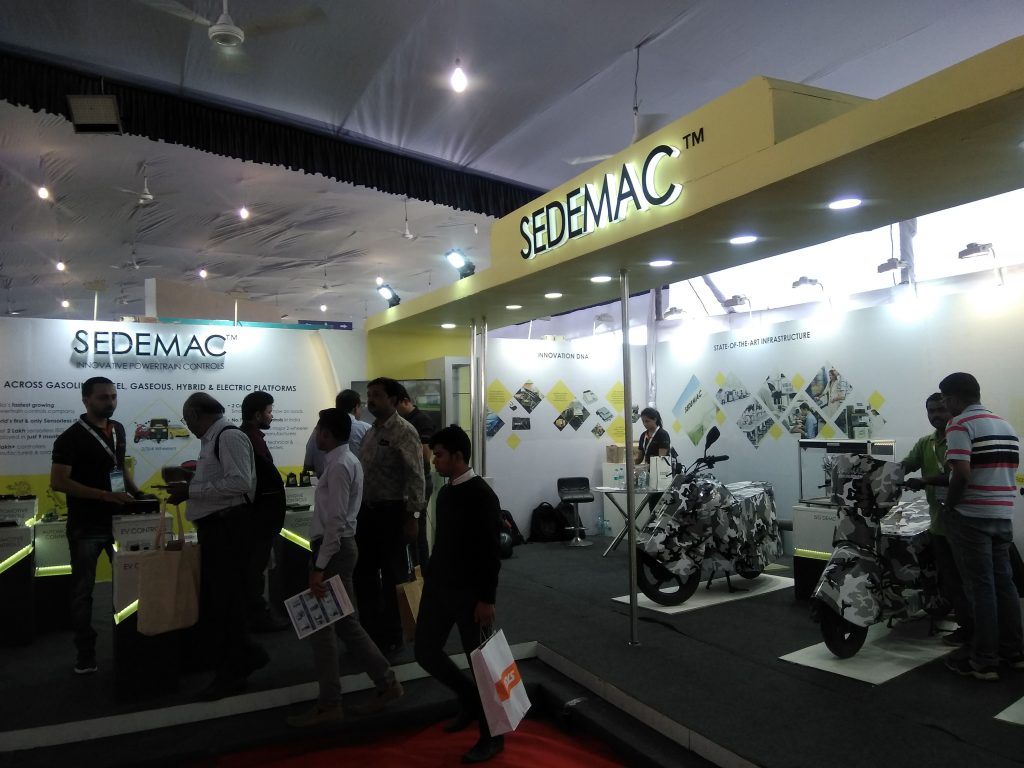 ISG stands for Integrated Started Generator, their ISG technology eliminates the need for starter motor to start the engine, from what I could understand, the dyno/motor which is needed in an engine to generate power and charge the battery is used to crank the engine during the start operation, this eliminates the need of using a starter motor. This technology not only reduces cost but saves space, it also is used to bring start-stop technology in a two-wheeler.
The start-stop technique is widely used in cars to provide more fuel efficiency by switching off the engine when the vehicle is stationary for more than a few seconds and restarting the engine when it is time to go, this full process is carried out without any intervention from the driver.
Sedemac has its own ISG ECU to control this operation, I am not sure why didn't they reprogram the existing ECU and if there was no existing ECU in the vehicle then how are they able to stop the engine. This technology can be added to two-wheelers which are already in the market with minimal changes to the original vehicle and they also had a demo of a few of these modified two-wheelers to showcase.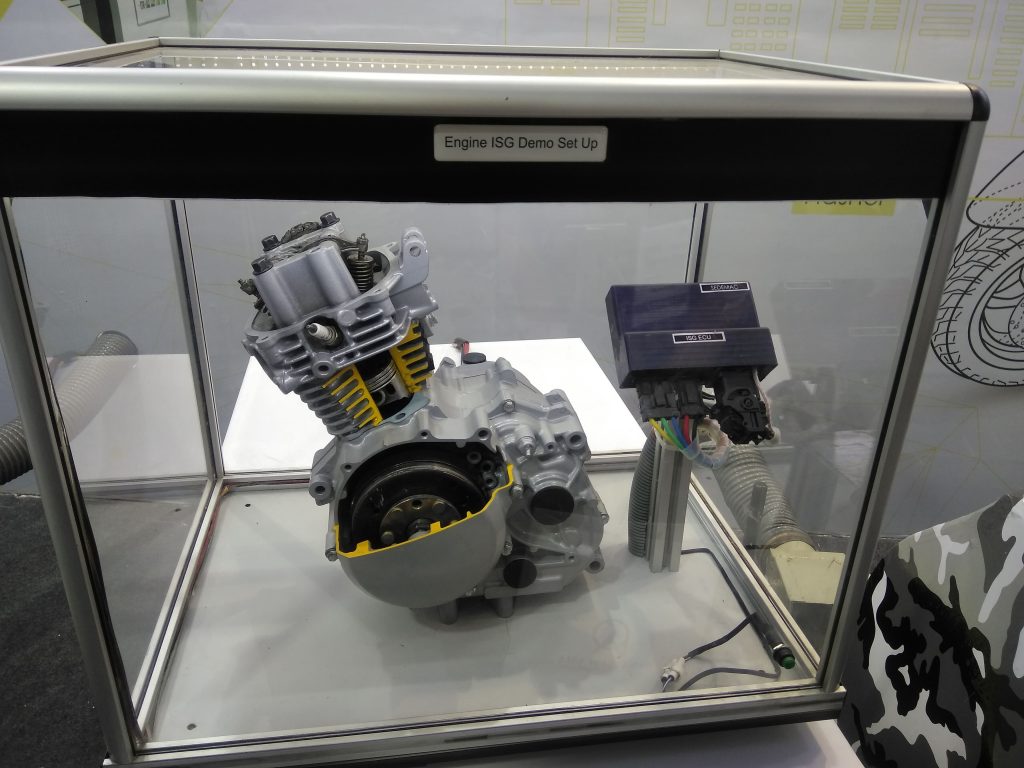 Devise Electronics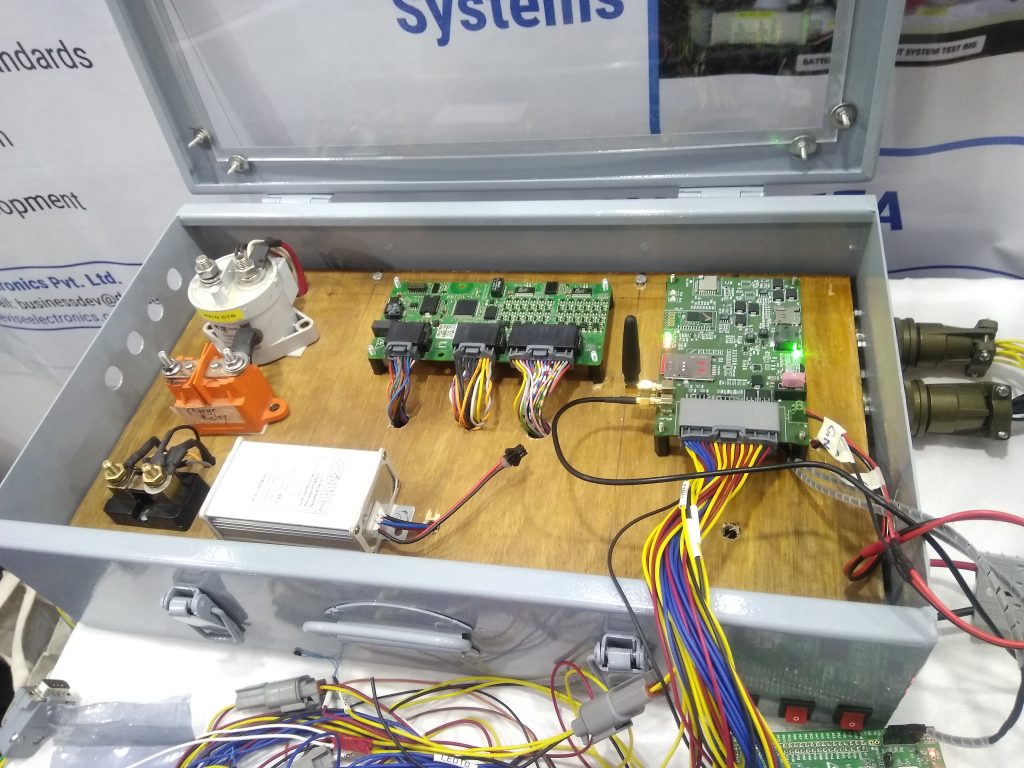 Finally, we are going to talk about one of my favorite stall this year which was from Devise Electronics.
As mentioned earlier there were many companies showing their innovative projects which they have completed or are currently working on but one thing I noticed time and time again that most of the companies who's stand I visited in SIAT are not designing their products in India, many of them have manufacturing in India, testing in India but no design in India (by which I mean electronics design).
But companies like Devise Electronics are amongst the few companies who work on developing their own hardware. From what I could understand about the company, they are currently selling Battery Management, Battery Charging solutions developed by the foreign company, meanwhile learning from the market and developing their own solution.
The image shown above is a complete battery solution which what they currently are providing. Engineer explaining to us their setup also showed a prototype that they have been working on where they have combined the full functionality of the above-shown system into just one small board whose size was just a bit bigger than a modern smartphone. This will certainly reduce the amount of space required for the system but also the cost of the system is reduced.
Devise Electronics also provide many other services like R&D services, product development, etc. The most impressive part was that they also provide training on automotive electronics to engineering graduate students as well as experienced professionals bridging the knowledge gap which we currently see in the electronics industry. No wonder engineers explaining their demo were knowledgeable and enthusiastic about their product.
Others
Below are few images of other stalls I visited in SIAT
Hopefully, you enjoyed this brief rundown of the few stalls I visited at SIAT 2019 and you too are motivated to visit SIAT next time around.