Today I'm going to review one of the well-known PCB manufacturers in India, PCB Power.
PCB Power is a 20 years old Indian PCB manufacturing company located in Gujrat, it also provides PCB layout, component sourcing, assembly & stencil manufacturing services.
Over the years I have used PCB Power services many times in various projects but I wasn't able to review them as the PCBs I worked on were for commercial projects. Currently, I have been working on a personal project which is an extension of my earlier project call Constant Current Dummy Load.
Below is the 3D rendering of the PCB in KiCAD in comparison with the board I got from PCB Power.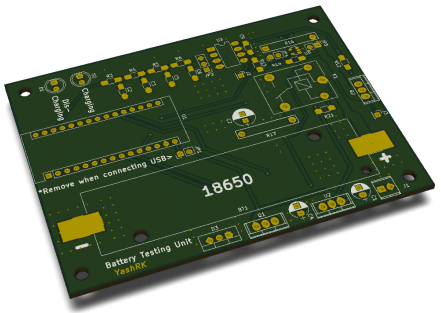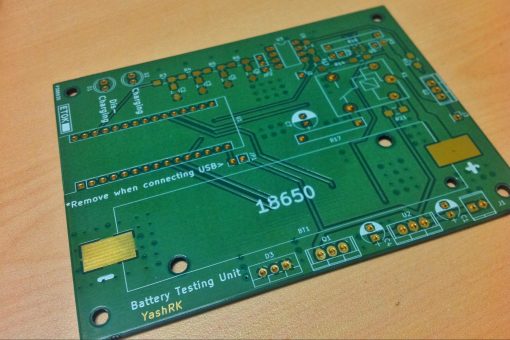 "Above image is not clear as my mobile was not able to take a good picture in indoor lighting, the board actually came out very good!"
Given PCB Specifications:
Dimensions: 100 mm x 75 mm
Layers: 2
Start Copper Thickness: 35 µm
Finish Copper Thickness: 60 µm
Surface Finish: Immersion Gold / ENIG
Following are a few parameters that I consider while deciding the quality of PCB:
Alignment:

Solder mask alignment was perfect, I couldn't see any misalignment from one side of the board to the other.
The drill was also well aligned as the drills we spot on in the centre of the pads and thus there were no breakouts

Via & Pads:
Dimensions:

Dimensions of the PCB and the edge cuts were accurate.
The board was routed from all four sides and there were in total six mouse bites marks along the edge of the board.

Silk Screen:

Silkscreen was very accurate there was no bleeding and text resolution was fine enough that I cannot see any visible dots.

Gerbers:

It is very important to me that the manufacturers do not touch my Gerbers, in past, I had cases were one of the local PCB manufacturer removed vias from my board because he thought there were too many vias without notifying me in advance.
PCB Power didn't touch my Gerbers and in past, they have notified me if they find a fault in the PCB.

Manufacturers marking:

No one likes any markings on their front silkscreen of the board especially if the board is not going into a case or is been used as a front panel.
PCB Power has added ET OK mark with a tracking number on the front silkscreen, after a closer look I found that they do provide an option to not print the ET OK print on the silkscreen but I guess they might still print the tracking number – needed to be confirmed.
Other Considerations:

Cost: Costing I got from PCB power is very competitive when compared to other Indian & international (Chinese) manufacturers especially when you consider the shipping cost.
Time to delivery: I ordered my PCBs with a delivery term of 28 Days to get low cost but luckily and got it delivered to me within a bit more than a week.
Conclusion:
I am certainly very happy with the boards that I got from the PCB Power. I would like to mention one con which I have found when working with them on a commercial project, as I mentioned they provide various PCB related services and when you use them as a turnkey solution to manufacture, procure parts and assemble the PCB they provide different quotes for each service and if you have multiple boards like I did you end up having 10 – 15 quotes which you have to go through each of them to find irregularities, track them and get rectified from PCB Power which takes up a lot of time and is really very annoying.
There is one new thing I tried on this board, that is to print my name on the board by removing the solder mask over a flood plain instead of normal silkscreen printing and as the board had a gold surface finish the name came out with golden finish which really looks awesome.